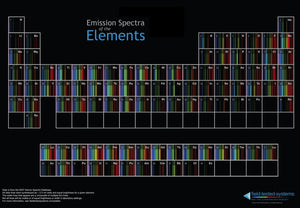 Above: Tom Field showing Neil DeGrasse Tyson our new poster
We love this beautiful 24" x 36" laminated poster that shows the spectra for each element in the periodic table in brilliant colors.
What a great way to illustrate that each element has its own spectral "fingerprint."
Makes a great addition to your personal fine art collection, classroom or office! Finally, there's a way to show to your family and friends why you're passionate about science. With a little negotiation, we're sure your spouse, partner, roommate or dog will allow you to hang this in your living room.
If you're a teacher, this poster is a memorable teaching tool! Whether you're teaching chemistry, physics, astronomy or general science, your students will be fascinated by this beautiful and effective presentation. 
Above: a close-up of the upper left corner of the 
poster that shows the Hydrogen Balmer series.
Want to know more about what this poster means? Click this link.
Data source: this chart displays at equal strength and width all persistent lines from the NIST Atomic Spectra Database. Not all lines shown will be visible or of equal brightness in all laboratory settings.

Buy risk-free: When it's time to trade up you'll get the most value for your used gear.