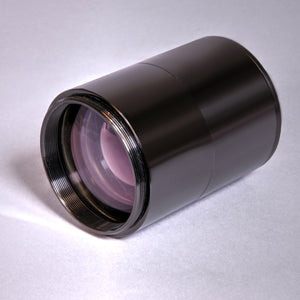 Description
This is the same full frame field flattener that comes with the Stellarvue SVX80T-3SV.  When you purchase this separately, it also comes with an adapter for use with a variety of our 80 mm apos. This flattener will work with the following Stellarvue Telescopes:
SVX80T-3SV

SV80T-3SV 

SVX80T-25SV 

SV80ST refractors that use either a 2.5" Stellarvue or a 2.5" Feather Touch focuser 
Please note: This flattener will not work with older 80 mm Stellarvue Telescopes that were made using a 2" focuser.
On the camera side of this flattener is a standard M48X.75 thread. The backfocus from the base of this thread is 55 mm. So this flattener as it comes will work with a DSLR with a 48 mm t-ring. It will also work with a ccd camera that uses the M48 thread and has a 55 mm back focus. If your ccd camera uses another thread and/or if the back focus is not exactly 55 mm, please call us and we can provide you with a modified version of this flattener with the proper adapter to meet your requirements. 

Buy risk-free: When it's time to trade up you'll get the most value for your used gear.