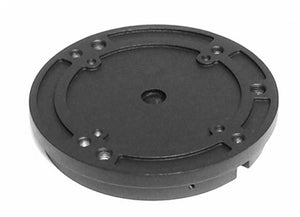 Description
6" (150mm) iOptron Pier Top flange plate for building your own pier or modifying your existing tripod/pier.
Click HERE for the Pier Top CAD drawing.
Features
The Pier Top can be used to mount the following mounts (with appropriate mounting accessories) :
CEM60/CEM60-EC (w/ center post)

iEQ45/iEQ45 (w/ center post and alignment peg)

iEQ30/iEQ30 Pro (w/ center post and alignment peg). Due to the small mount base of iEQ30/iEQ30 Pro, the low latitude operation may be affected.

AZ Mount Pro/MiniTower/MiniTower II/MiniTower (w/ a center T-bolt)
Please select the accessories from the drop down option menu to add the needed for your mount. If you already have the accessory, just order the plate itself.
Plate diameter: 6" (150mm)

Three (3) M10 threaded through holes for MT/MT2/MTP and AZ Mount Pro

Four (4) M8 threaded through holes for CEM60/CEM60-EC, or iEQ45/iEQ45 Pro

Four (4) M6 threaded through holes for iEQ30/iEQ30 Pro.

Buy risk-free: When it's time to trade up you'll get the most value for your used gear.