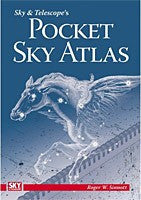 Description
Pocket Sky Atlas
By Roger W. Sinnott
Format: Paperback

Our celestial atlases have been the standard by which all others are judged for more than half a century. Our Pocket Sky Atlas is the handiest and lowest-priced telescopic sky atlas around, while carrying forward our standards for expert design and greatest usability.

Pocket Sky Atlas is easy to take on trips and use at the telescope thanks to its compact size, convenient fold-back spiral binding, and easy-to-read charts and labels. Yet it's everything you'll need in a serious sky atlas until you're an advance practitioner going very deep.

Pocket Sky Atlas features 80 charts covering the entire celestial sphere. It plots the 30,796 stars down to visual magnitude 7.6, precision-sized by brightness. That's five times as many stars as you can see with the naked eye under a perfect dark sky, and all you can detect in typical binoculars or a high-quality finderscope.

Plotted among the stars is a carefully chosen selection of 1,500 deep-sky treasures: all galaxies brighter than magnitude 11.5, globular clusters brighter than 10.5, planetary nebulae brighter than about 12, all leading nebulae both bright and dark, and all of the popular Herschel 500 list even if they didn't meet these criteria. Also indicated are good visual double stars, significantly variable stars, and 55 deep-red carbon stars.

Additional close-up charts go deeper at larger scale in the Orion's Sword area, the Pleiades, the Virgo Galaxy Cluster, and the Large Magellanic Cloud. (The Jumbo Edition has six additional closeup charts.)

Fully explained and indexed—including exactly how to use star charts with a telescope.

Perfect for experienced observers and beginners alike, Sky & Telescope's Pocket Sky Atlas will quickly have you exploring the heavens with depth and mastery.

More features of this 80-chart atlas:

Sky & Telescope's standard stick-figure constellation outlines, to help you find your way through the detail

Deep-sky objects are color-coded by type: galaxies red, bright nebulae green, clusters yellow

All galaxies are shown in their correct apparent sizes, shapes, and orientations

Scale: 5mm per degree.
Specifications
| | |
| --- | --- |
| Array | Roger W. Sinnott |
| File/Trim Size | 6 x 9 |
| Format | Paperback - Spiral-bound, softcover |
| ISBN 13 | 9781931559317 |
| Number Of Pages | 110 |

Buy risk-free: When it's time to trade up you'll get the most value for your used gear.