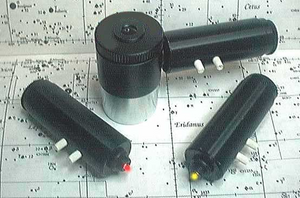 Description
Less Eye Fatigue = Better Astrophotographs -- PulsGuide pulses the reticle illumination to let the eye rest between pulses. The result? Improved contrast between reticle and faint guide stars for easier guiding and better astrophotographs.
Two Knob Timing Control and Adjustable Brightness -- 2 knobs let you independently tailor on and off blink times from continuous on to long-on/short-off or short-on/long-off or anything in between.
Two Color LEDs -- Comes with red LED which you can switch to yellow LED by unplugging red and plugging in yellow. Some astrophotographers find low level yellow makes the cross hair clearer and sharper, and makes guiding even easier. Long life CR1/3N battery included.
Available With or Without Eyepiece -- Use our quality, dual crosshair, 12.5mm plossl eyepiece or with your eyepiece or finder. Fits standard 8mm threaded hole. 10mm and 14mm set-screw adapters available. Uses one long life lithium battery (included) that is available at most electronics, camera and hardware stores.

Buy risk-free: When it's time to trade up you'll get the most value for your used gear.