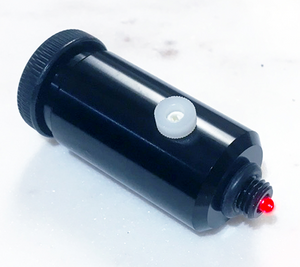 Description

Less Eye Fatigue = Better Astrophotographs -- PulsGuide pulses the reticle illumination to let the eye rest between pulses. The result? Improved contrast between reticle and faint guide stars for easier guiding and better astrophotographs.
Night Vision Safe 660nm Red LED and long life CR1/3N battery included Black anodized aluminum body and large easy grip plastic on/off/brightness knob.
One Knob Timing Control and Adjustable Brightness --Fixed pulse ratio of 2/1 adjustable from fast to slow blink.
Fits all Current Finders and finder eyepieces using M8x1.0 thread. If you have an old old older finder with the M8x0.75 thread, contact us and we can accommodate.  
Compact 2 1/4 inches long, 1/2 inch shorter than regular PulsGuide.

Buy risk-free: When it's time to trade up you'll get the most value for your used gear.