Description

This kit from QHY combines the 268 Monochrome Photographic camera with an OAG-M and a CFW3 Medium (Ultra-Slim) or Large Filter Wheel.
For more information on component parts, see individual pages for the camera, filter wheel, and OAG.
As for QHY268M Combo, first there's no doubt that 2-inch filters are large enough, but they're not affordable enough. With a rough estimate of us, 36mm filter can be matched with scopes whose focal ratio are large than f/5 (f/4 worths a try, too). However, if your scope has a small focal ratio like 1/2.8, we don't recommend 36mm filters.
Model
BFL Consumed
Filters Supported
QHY268M
12.5mm
CFW3M-US
17.5mm
7 position

 

36mm unmounted

CFW3L
21.5mm
7 position

 

2inch mounted/50mm unmounted

OAGM
10mm
The New Combo B1 is designed to be more flexible to achieve multiple output specifications. Since June 2023, we are adding a 5mm spacer with M54 threads into Adapter kit B1.  This addition gives the user a choice of terminating the output in either M48 or M54 threads. You can get 55/56mm BFL with M48/M54 threads according to your needs. Since are standard accessories included with the camera, this addition has no affect on the price.
55mm M48/M54 are suitable for standard flatteners and multiple purpose coma correctors (MPCC), while 56mm M54 threads are common for Takahashi reflectors.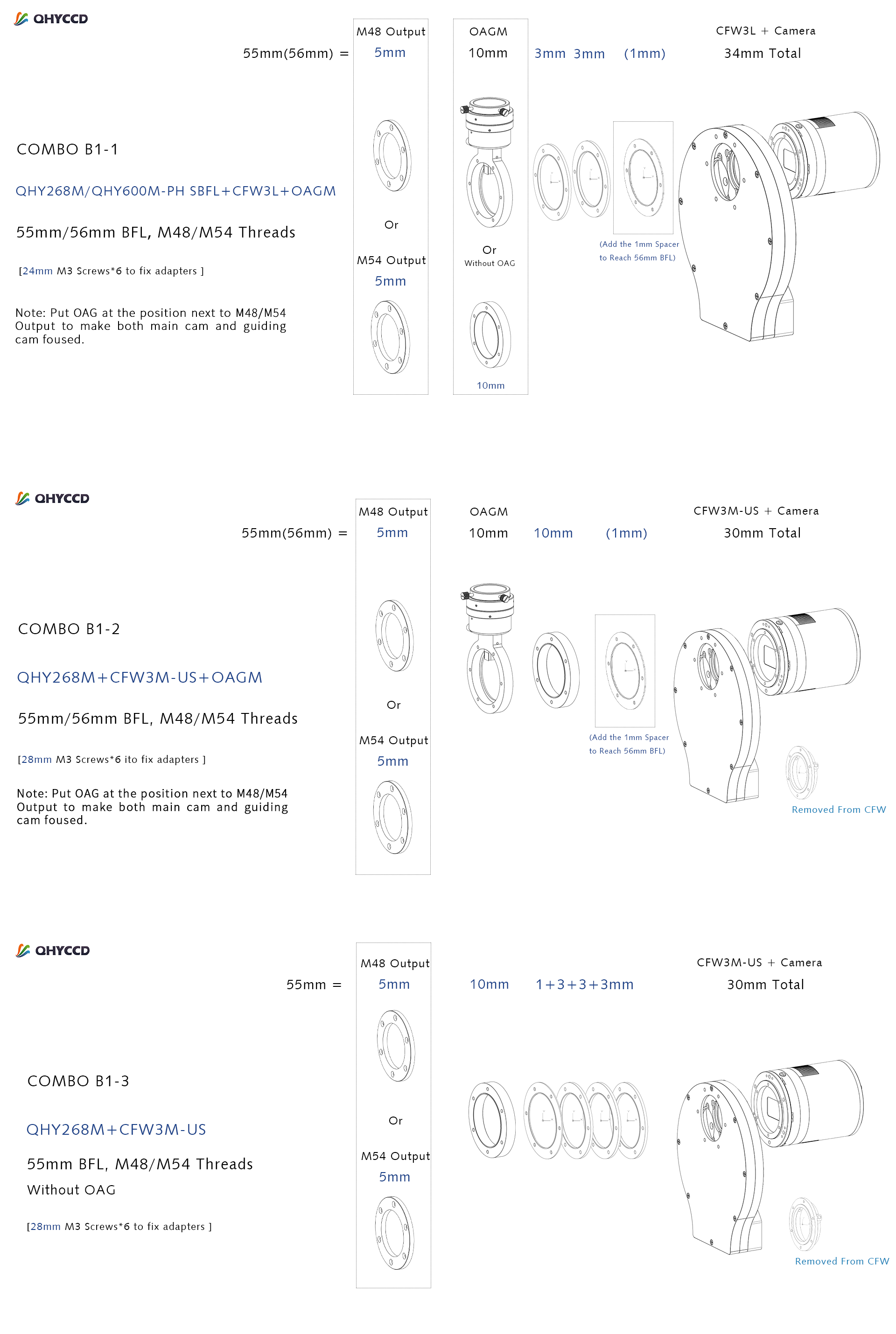 B4 for New 268C
From 2023, the top part of QHY268C will change to the shorter one just like that of 268M. In fact, you can get the "SBFL(shorter back focal length" version of 268C right now.
The previous 268c has a back focal length of 17.5mm, and since it cannot connect to the scope without CAA, so it's actual BFL is 17.5mm+6mm=23.5mm. Now after the change, 268C's BFL will be shorten to 14.5mm, which provides more spaces for a filter wheel drawer, or an eletric CAA, or DSLR Lens, etc.
The new 268C adapts a new kit B4 which can best make use of the standard accessories. B4-2 and B4-3 share common parts from the necessary B4-1(for MPCC) .When you need to connect Canon or Nikon lens, you only need to get one Canon/Nikon adapter, not a "kit" like D2 or D3 anymore.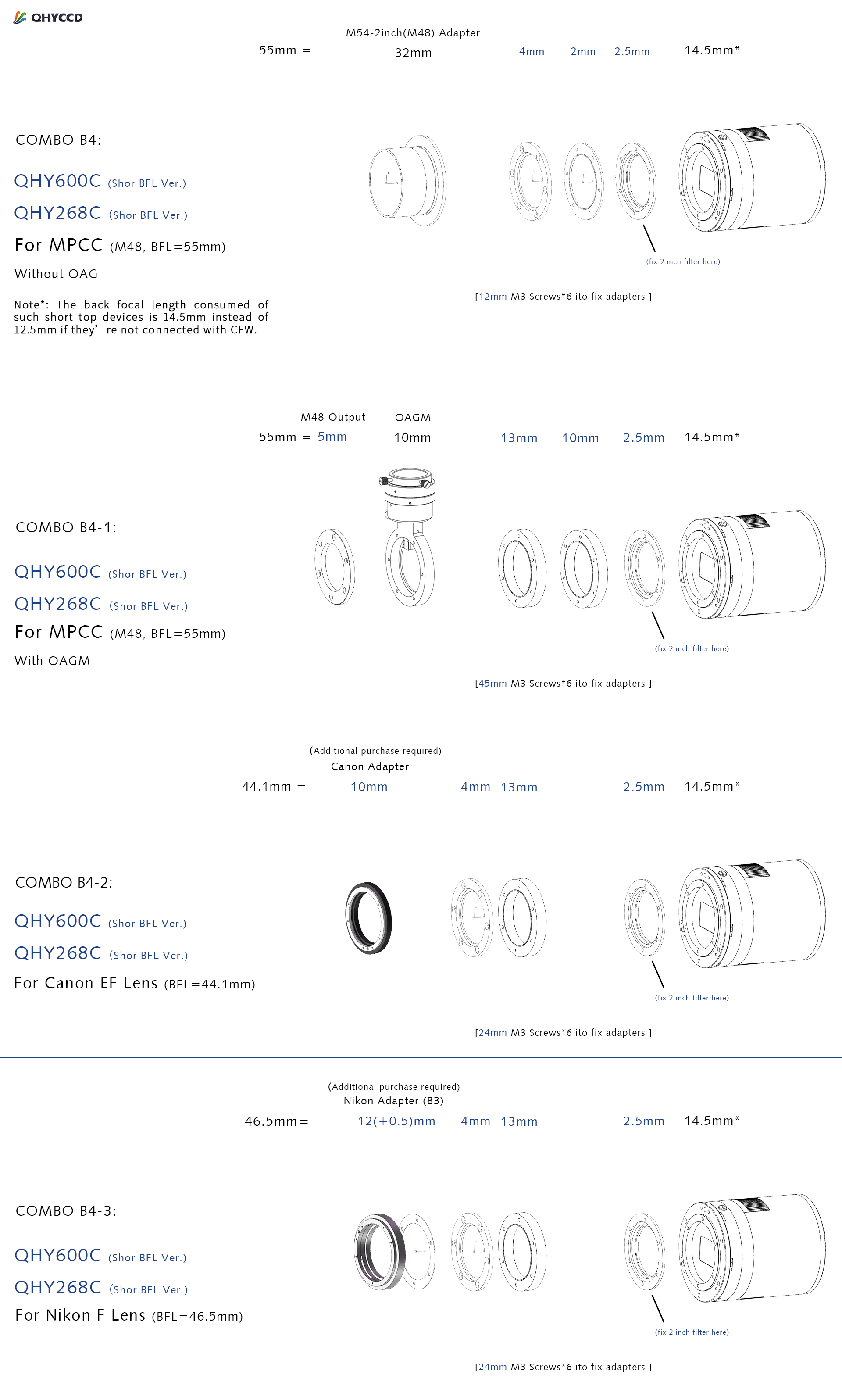 Specifications
Camera
Model
QHY268M
CMOS Sensor
SONY IMX571 M
Mono/Color
Mono
FSI/BSI
BSI
Pixel Size
3.76um x 3.76um
Effective Pixel Area
6280*4210 (includes the optically black area and overscan area)
Effective Pixels
26MP
Sensor Size
APS-C
A/D Sample Depth

 

 

Native 16-bit (0-65535 greyscale) A/D
Full Well Capacity (1×1, 2×2, 3×3)
51ke-
75ke- or above in extended full well mode
Full Frame Rate
USB3.0 Port:
Full Resolution  6.8FPS  @8BIT         6FPS @16BIT
2048lines         13.6FPS  @8BIT     11.5FPS@16BIT
1080lines         25.4FPS  @8BIT     19.5FPS@16BIT
768lines           35FPS     @8BIT        25FPS@16BIT
480lines           50FPS     @8BIT        34FPS@16BIT
Readout Noise
1.1e- High Gain,

 

3.5e- Low Gain

(5.3e- to 7.4e- in extended full well mode)

Dark Current
-20C,0.0005e /pixel/sec

 

-10C,0.001e /pixel/sec

Exposure Time Range
30us-3600sec
Unity Gain*
0(PH Mode)

 

30(Extended Full Well Mode)

 

*With the improvement of the CMOS technology, the 16bit CMOS camera has been released, like QHY600/268/411/461. For these cameras, even in lowest gain it has beyond the requirement of unit gain (less than 1e/ADU due to sufficient samples) So you can directly set gain0 as start. Please note QHY600/268C/411/461 has extend full well mode. In this mode you still need to find out the unit gain position.

 

Amp Control
Zero Amplifer Glow
Firmware/FPGA remote Upgrade
Fully support via Camera USB port
Shutter Type
Electronic Shutter
Computer Interface
USB3.0
Built-in Image Buffer
1GByte DDR3 Memory
Cooling System
Two-stage TEC cooler

 

Less than 1S lower than ambient temperature -30C in continuous mode

More than 1S continuous mode or lower than ambient temperature -35C in single frame mode

(Test temperature +20°)

Optic Window Type
AR+AR High Quality Multi-Layer Anti-Reflection Coating
Anti-Dew Heater
Yes
Humidity Sensor*
Yes
Telescope Interface
Support M54 and M48 (with standard adapters )
Back Focal Length
QHY268M: 12.5mm (with CAA)
If used with the QHY filter wheel, the actual calculated intercept is 12.5mm.The actual BFL (the intercept from the CMOS chip to the top of the camera) is 14.5mm. Since most uses will match CFW with monochrome cams, please take 12.5mm as major reference. Check the mechanical drawing below for details.
Note 14.5mm rear intercept does not include adapter thread, which must be used with adapters of various sizes through the top 6 screw holes.
Weight
855g
Filter Wheel
Model

CFW3M-US

CFW3L

Back Focus Consumed

17mm+2mm

21.5mm

Filter Supported

7 position 36mm unmounted
7 position 2inch mounted/50mm unmounted

Available height limitation
(shall consider leaving the gap)

5.5mm

10mm

Weight

691g

911g
OAG
Telescope Interface
M54/0.75
Diameter of 6 x M3 screw hole positions
62mm
Suitable for CCD/CMOS Size
4/3 inch
APS-C,
APS-H,
36 x 24mm

Buy risk-free: When it's time to trade up you'll get the most value for your used gear.