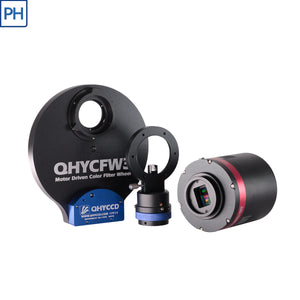 Description

This kit from QHY combines the 533 Monochrome camera with a CFW3S-SR small, standard-thickness Filter Wheel and an OAG-S.
Here are the combo we recommend for the QHYCCD Astronomy Camera QHY533. Compared with purchasing them seperately, you can get a discount about 5% off for the combo.
For more information on component parts, see individual pages for the camera, filter wheel, and OAG.
Specifications
Camera
Model
QHY533M
COMS Sensor
SONY IMX533 M
Mono/Color
Mono
FSI/BSI
BSI
Pixel Size
3.76um x 3.76um
Effective Pixel Area
3008*3028 (includes the optically black area and overscan area)
Effective Pixels
9MP
Sensor Size
1 inch
A/D Sample Depth

 

 

Native 14-bit A/D
Full Well Capacity (1×1, 2×2, 3×3)
58ke-
Full Frame Rate
USB3.0 Port:
Full Resolution  26.5FPS  @8BIT         20FPS @16BIT2160Lines          37FPS     @8BIT          28.5FPS@16BIT1080Lines          71.5FPS   @8BIT          55FPS @16BIT768Lines             97FPS      @8BIT          76FPS @16BIT480Lines             152FPS    @8BIT          117FPS @16BIT240Lines             280FPS    @8BIT         215FPS@16BIT
Readout Noise
1.3 to 3.4e-
Dark Current
-20C,0.0005e- /pixel/sec
Exposure Time Range
30us-3600sec
Unity Gain
68
Shutter Type
Electronic Shutter
Computer Interface
USB3.0
Built-in Image Buffer
1GByte DDR3 Memory
Cooling System
Two-stage TEC cooler

 

Less than 1S lower than ambient temperature -30C in continuous mode

More than 1S continuous mode or lower than ambient temperature -35C in single frame mode

(Test temperature +20°)

Optic Window Type
AR+AR High Quality Multi-Layer Anti-Reflection Coating
Anti-Dew Heater
Yes
Telescope Interface
–
Back Focal Length
Actual Back Focal Consumed: 14 mm (Combined with CFW)

 

Standard BFL: 17.5mm(±0.5)

Weight
845g
Filter Wheel
Back Focus Consumed

20mm+4mm

Filter Supported

7 position 1.25inch mounted/31mm unmounted

Available height limitation
(shall consider leaving the gap)

10mm

Weight

446g
OAG
| | |
| --- | --- |
|  Telescope Interface | M42/0.75 |
| Diameter of 6 x M3 screw hole positions | 54mm |
| Suitable for CCD/CMOS Size | 1inch or smaller |

Buy risk-free: When it's time to trade up you'll get the most value for your used gear.