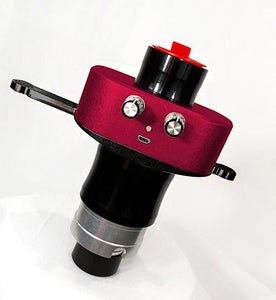 Description
Enjoy BOTH narrow Chrom and wide Prom Quarks in ONE! Daystar built both of them in the same housing. No equipment swapping, no refocusing.
Push the slider arm side to side like in an eye exam to see the broad stroked prominences of wider bandpass, then the high contrast of narrow bandpass.
Specifications
Contains TWO separate Fabry Perot Etalon elements, which may be shifted safely via push-pull into view.  
A hand-matched pair of narrower (<0.5Å FWHM) and wider (>0.6Å FWHM) etalons shall be SE grade and independently tuneable.
Ships with male combo 1.25" or 2.0" combo eyepiece snouts with safety indent slot directly into your diagonal
Ships with standard 1.25 female eyepiece drawtube output. Optional interchangeable 2" and camera accessories available.
Brass compression ring to protect eyepiece.
Uses USB power, 5v 2.0amp
Includes 90-240VAC wall adapter with international plug adapters.
Two tuning knobs allow wing shifting +/- 0.5Ã with detents at every 0.1Ã
LED indicator for power, warming, ready, fault
5 year warranty,
Optional 8-hour battery pack available.
Integrated, fully baffled 2 element telecentric 4.2X barlow optimized for 656nm
Integrated 12mm blocking filter
22mm clear filter aperture
Best performance with F/4 - F/8 refractors
Full disk viewing possible on refractors up to ~450mm focal length refractors
No aperture limitations. May be used on larger refractors for higher magnification views
Ships in watertight pelican style equipment case for dust & humidity-free storage.
Not suited for off-axis application.

Buy risk-free: When it's time to trade up you'll get the most value for your used gear.