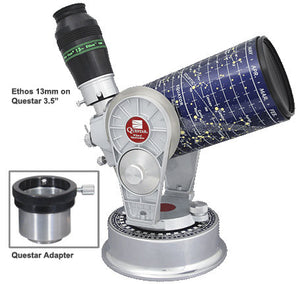 Description
Unleash the potential of your Questar 3.5 with Tele Vue's 1¼". Just add our Questar adapter to use any of the Tele Vue 1¼" eyepieces: Plössls, DeLites, Panoptics, Delos, Naglers and Ethos!
Experience a greater range of magnification and quick-change capability.
Discover improved resolution, color correction and contrast due to the multicoating, blackened lens edges, and new designs.
The threaded eyepiece barrels accept Nebular and other filters, if desired.
And, with fields of view up to 100°, diffraction limited anywhere in the field, your Questar 3.5 finally delivers the magnificent capability inherent in its design and construction.

Buy risk-free: When it's time to trade up you'll get the most value for your used gear.