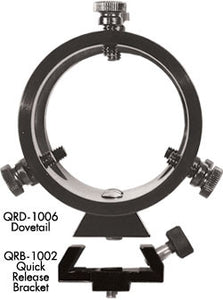 Description
QFM-1008, Quick-release type universal finder mount allows the use of 50-mm finder scopes on Tele Vue ring-mounts.
QFM-1008 includes Dovetail (QRD-1006) and Quick Release Bracket (QRB-1002).
This Dovetail / Bracket combo can be used to:
convert UFM-1007 Universal Finder Mount (fixed type) to QFM-1008 Quick-Release type.
convert Sol Searcher into a quick release accessory
accept Vixen and Orion "stalk" type finders

Buy risk-free: When it's time to trade up you'll get the most value for your used gear.