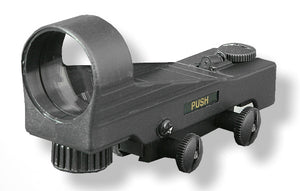 Description
If you're looking for an inexpensive way to join the red dot reflex sight revolution, then look no further. The Stellarvue F1 Red Dot Reflex Finder Sight is your answer... Featuring a large 1.25" clear glass viewing frame, this finderscope offers a non-magnified window to the stars where a superimposed red dot aligns your optics to the target. The brightness level of the red dot is easily adjustable with a knob in front. Attachment is also easy with finger attachment knobs that means no tools are needed in the field.  Merely set your telescope on a stationary object, use the finger adjustment screws to set the dot on target, and you're ready! When the night (or day) is done, simply slide the Stellarvue F1 - Red Dot Reflex Finder Sight off and with proper handling you're alignment will be correct the very next time you use it. 

For GoTo telescope owners, a Stellarvue F1 - Red Dot Reflex Finder Sight makes setting on alignment stars a breeze. For the beginner telescope, a Stellarvue Red Dot Finder will help get you in the general area a lot faster! You can even use the Stellarvue Red dot finder on a spotting scope, astronomy binoculars, or in conjunction with a magnifying finderscope. The standard CR2032 battery (purchased separately) provides hours upon hours of fun and easy targeting! 

Buy risk-free: When it's time to trade up you'll get the most value for your used gear.