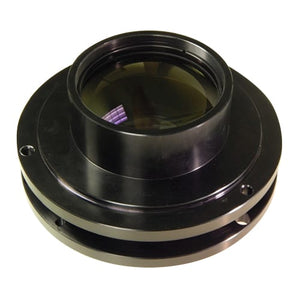 Description
This reducer lens is designed specifically for flat field telescopes like the CDK700. This reduces the f ratio of the CDK700 telescope 70% yielding an effective focal length of 3150mm and an f-ratio of F/4.5 .
The reducer lens attaches to the Nasmyth focus port of the CDK700 and has mounting holes for attaching the IRF90 rotating focuser. The reducer lens has 3 inches of back focus from the mounting surface of the IRF90.  Note: The use of the IRF90 with the reducer lens requires replacement of the threaded internal baffle (ROF 307).  Baffle come with standard with reducer lens.
The optical performance of the CDK700 with the reducer lens is 5.5 microns at the edge of the 52mm imaging sensor.

Buy risk-free: When it's time to trade up you'll get the most value for your used gear.