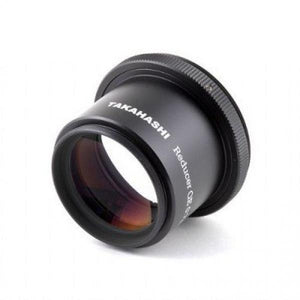 Description
The Takahashi Mewlon Reducer / Flattener is designed specifically for the Mewlon series of telescopes, and reduces the focal ratio by 0.8X. This reducer is made from ED glass, and produces an image circle with a diameter of 30 mm on the μ-210 telescope.
Specifications
Telescope with Adapter

μ-180C with Mewlon Reducer/Flattener
μ-210

 with Mewlon Reducer/Flattener

Adapter Part Number

TAK70581
TAK70581

Aperture

180mm
210mm

Resolution

0.64"
0.55"

Limiting Magnitude

13.0
13.4

Light Gathering Power

661X
900x

Focal Length

1760mm
1961mm

Focal Ratio

f/9.8
f/9.3

Image Circle Diameter

30mm
30mm

Optical Type

Dall-Kirkham

Dall-Kirkham

Tube Diameter

210mm
244mm

Tube Length (With Lens hood retracted)

625mm
700mm

Tube Weight

6.2kg
8.1kg

Recommended Finder

6x30
7x50

Metal Back Distance

 -----
56.2mm

Buy risk-free: When it's time to trade up you'll get the most value for your used gear.