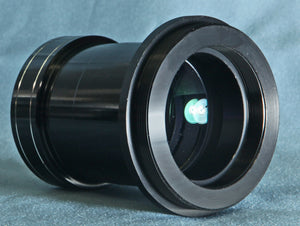 Description
Focal Reducer/Field Flattener for SVR102T and SV102-ACCESS
This reducer/flattener is optimized for our SVR102T and SV102-ACCESS refractor telescopes. The flattener threads into the Feather Touch or Stellarvue 2.5" focusers (FSV25/FSV25B). It will also work with a standard 2" focuser for earlier models. The 0.8X focal reduction converts the 102mm f-7 to f-5.6 and reduces the focal length to 571 mm.
This reducer flattener has a standard 42 mm filter thread. Standard 2" filters can be added to the reducer/flattener when imaging. The backfocus of the unit is 55 mm. Since a DSLR with t-ring has a 55 mm backfocus, thread it into the cameras t-ring and then screw it to the focuser as shown below.
If you are using a CCD camera, an additional set of extension tubes may be needed depending on the backfocus of the camera. You need to know how much distance there is between the cameras T-thread and the ccd chip. It is important that the distance from the back of the field flattener to the chip be maintained at 55 mm. So if the ccd camera has a backfocus of only 35 mm, a 20 mm extension will be needed. See the example below.
In this example the camera had a 35 mm backfocus so a 20 mm extension tube was needed. It threads in between the back of the field flattener/reducer and the camera as shown. 
In this case the extension tube must be a standard t-thread (M42 X.75). Our selection of 42 mm extension tubes may be viewed here.

Buy risk-free: When it's time to trade up you'll get the most value for your used gear.