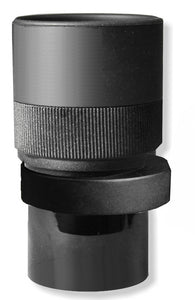 Description
This is the same eyepiece used on our finder scopes. It is a very sharp 23 mm focal length eyepiece with a 50 degree field of view and a 20.5 mm field stop diameter. The cross hair is a reticle that may be focused. This eyepiece accepts reticle illuminators such as our EI002. Purchasing an illuminator is advised as it is difficult to see the crosshairs at night.
This eyepiece has generous eye relief and a fold down rubber eyecup. 

Buy risk-free: When it's time to trade up you'll get the most value for your used gear.