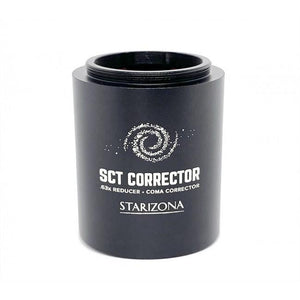 Performance
The diagram above shows how the SCT Corrector improves the off-axis spot size on a Celestron 11" SCT. Performance is similar on other size telescopes.
Focal Length
The exact focal length of the reducer/telescope combo depends slightly on where in the optical path the SCT Corrector lens is placed. Nominally it will be within a few mm of the rear threads on the telescope. Changing this distance should only affect the focal length, not the optical quality. Listed below are the nominal focal lengths for the various sizes of Celestron SCTs*. The SCT Corrector works great on standard f/10 Meade SCTs as well, we just didn't have exact data for the nominal designs of those telescopes.
| | | |
| --- | --- | --- |
| Telescope | Focal Length | Focal Ratio |
| C6 | 1220mm | f/8 |
| C8 | 1450mm | f/6.8 |
| C9.25 | 1490mm | f/6.3 |
| C11 | 1760mm | f/6.3 |
| C14 | 2365mm | f/6.7 |
* The reduction ratio is different for the C6 and C8 because the native backfocus of those telescopes is less than that for the larger scopes, so there is slightly less reduction. The C14 is slightly slower because it is natively f/11.
Camera Adapters
The SCT Corrector III has a nominal image circle of 27mm, accommodating most popular CCDs and DSLRs. For larger format cameras, check out our SCT Corrector LF.
Because the backfocus of the SCT Corrector II is fairly critical, for best performance Starizona makes a variety of camera adapters, and custom adapters are also easy to make for less-common camera setups.
The nominal backfocus is 90.3mm from the base of the threads on the camera side of the SCT Corrector II. For the largest compatible cameras, this should be kept within +/-2mm, while smaller format cameras may work fine at slightly larger tolerances. If we do not have the correct length or style adapter you need, we can gladly make the correct part to get the best performance from your setup. Please contact with any questions on making your camera configuration work.
Telescope Adapters
The SCT Corrector II, like the original SCT Corrector, has a 2" barrel that allows it to fit into a 2" visual back or 2" focuser. If your telescope does not have such an adapter, we recommend our Virtual View rotating visual back, which allows for easily changing the camera orientation without loosening any lock screws.
Filters
The front (telescope side) of the SCT Corrector II is threaded to accept standard 2" (48mm) filters.
Features
0.63x focal reduction factor
2.5x faster than SCT's native f/10
1.4x faster than original f/7.5 SCT Corrector design
27mm image circle
2" barrel
Threaded for 48mm filters
SCT Corrector Top Thread: M42 x 0.75mm T-thread
Mechanical Backfocus (thread shelf to focal plane): 90.3mm (3.56")
Black anodized, machined aluminum housing
Fully multi-coated optics
Improved 4-element optical design
Gallery of Images from the Original f/7.5 SCT Corrector
Images by Kfir Simon with a Meade 12" LX200 and SBIG ST-8300M camera:
Images by Bruce Pipes with a Meade 14" LX200 and SBIG ST-8300C camera:
Images by Tyler Welch with a Celestron CGEM-800 and modified Canon 1100D camera:
Images by Gil Esquerdo with a Celestron CPC-1100 and SBIG ST-2000XM camera:

Buy risk-free: When it's time to trade up you'll get the most value for your used gear.