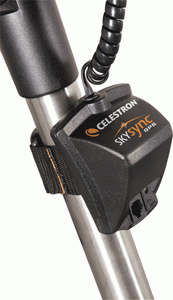 OVERVIEW
Upgrade your Celestron computerized telescope to GPS with SkySync.
Improve the speed and accuracy of alignments with 16-channel GPS.
Automatically updates the time and date.
Plugs into the AUX port on the base of the telescope
Compatible for all non-GPS Celestron computerized telescopes.
DESCRIPTION
Add GPS to your Celestron computerized telescope and get time, date, and location downloads from orbiting Global Positioning Satellites.  This 16-channel GPS module plugs into your telescope's hand control or the auxiliary (AUX) port on your drive base and then mounts to a tripod leg to stay safely out of the way with included straps. 
SkySync makes it easier to align your telescope while keeping your date and time updated.

Buy risk-free: When it's time to trade up you'll get the most value for your used gear.