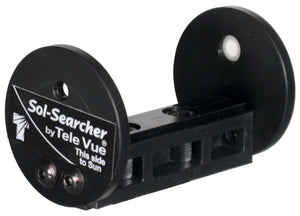 Our Take
Nighttime viewing allows alignment of your mount with the North Star so you can begin star hopping or use your mount's go-to functionality if it has it to find the objects you wish to view. When viewing the sun or the upcoming Great American Eclipse on August 21st, that will not be available. It can be a challenge to get the sun within your field of view. Luckily, the Sol-Searcher makes the process incredibly easy. 

Just align the image of the sun through the pinhole opening on one side with the screen on the other. Once the image is centered on the screen, you'll know that you've found your Sol and be ready for your session. It takes out all of the guess work and the setup literally only takes seconds. The mounting bracket is designed for use with Lunt telescopes or Televue mounting rings, but double-sided foam tape allows you to affix the Sol-Searcher to any 'scope that has been setup with the appropriate gear to safely view the sun. 
Description
Sol-Searcher is the safe and easy way to find the Sun. It is absolutely safe since you don't look through Sol-Searcher, you look at it. The aperture acts as a "pinhole" which projects an image of the Sun on to the ¼" translucent "screen." This screen can be viewed from either side. Simply move your scope until the Sun's image is centered on the screen and the Sun will be in the eyepiece's field of view.

Buy risk-free: When it's time to trade up you'll get the most value for your used gear.