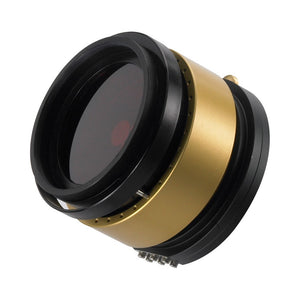 Designed to attach to an existing Etalon, creating a double-stack system
RichView tuning system
Description
With RichView tuning system. 40mm diameter primary H-Alpha etalon filter. This add on filter reduces the normal bandwidth of a SolarMax 40 telescope or filter set from the single stack .7A performance to a more restrictive .5A, increasing visibility of surface detail and active regions on the Solar disc. MUST be combined with a primary SolarMax 40 filter and blocking filter, complete Coronado SolarMax 40 telescope, or a PST telescope.
Includes patented RichView tuning assembly allows direct tuning of the primary filter etalon. No other commercially available Ha telescope can provide the tuning range and accuracy of the SolarMax II. Now you can tune for the highest contrast views of active regions, filaments and surface detail, or quickly and easily re-tune for prominences on the solar limb.
CAUTION: Never look at the Sun, either directly or through a telescope, without a professionally made protective solar filter installed that completely covers the front of the instrument, or permanent eye damage could result.
Warranty:
Limited Warranty against defects in materials or workmanship for five years from date of purchase. This warranty is provided by Meade for the benefit of the original retail purchaser only. For complete warranty details contact Meade at 800-626-3233.
Warning:
Please note this product was not designed or intended by the manufacturer for use by a child 12 years of age or younger.
Specifications
User level: Advanced
Safe solar viewing requirements: Must be used with a blocking filter
T-max tuner: Yes
Warranty: Five year

Buy risk-free: When it's time to trade up you'll get the most value for your used gear.