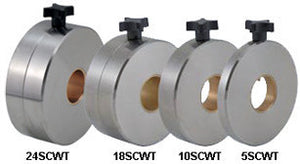 Description
These counterweights are precision machined from 303 stainless steel. The weights slip easily onto the counterweight shaft and are secured in position with a large hand knob/brass pin assembly. The brass pin will not mar your shaft.
Note: Some weights may not use the bronze insert as depicted in the photo.
Keep in mind that you can adjust the position of the weights to counterbalance varying loads. However, the addition of a guidescope, camera and other heavy accessories may necessitate an additional counterweight. If you plan to mount your catadioptric, Newtonian or any other scope, figure that you will need a counterweight total equal to approximately 90-125% of the weight of your tube assembly and accessories (large diameter scopes require a higher percentage). The 1100GTO and 1600GTO mounts require slightly more weight than the older 900GTO and 1200GTO mounts.
See Balance to Optimize Guiding for proper counterweight placement.
Below are the nominal weights and dimensions of our counterweight line.
Specifications
Use these dimensions to determine how many counterweights will fit on each shaft. Note that the diameter of the 24 lb. counterweight is larger than the others:
5 lb. Counterweight (5SCWT) - diameter: 6", thickness: 0.75"
10 lb. Counterweight (10SCWT) - diameter: 6", thickness: 1.4"
18 lb. Counterweight (18SCWT) - diameter: 6", thickness: 2.5"
24 lb. Counterweight (24SCWT) - diameter: 6.8", thickness 2.5"
30 lb. Counterweight (30SCWT188) - diameter: 7.5", thickness 2.5"
900/1100 Counterweight Shaft (M9404-A) - usable length 12.875"
1200/1600 Counterweight Shaft (M12601-D) - usable length 18.5"

Buy risk-free: When it's time to trade up you'll get the most value for your used gear.