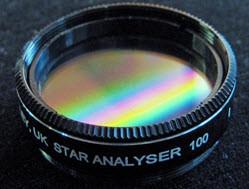 Description
The Star Analyser 100 (SA-100) was designed specifically for amateur astronomical spectroscopy. It can be mounted on your telescope just like any other 1.25″ filter. It's is easy to use, and works with most cameras. Capturing the spectrum of a star is easy! Use our grating, a DSLR or small telescope, and our award-winning RSpec software ($109).
Click the green Contact button at the lower right to contact us.
The video below shows some exciting examples of what you can do with a Star Analyser:
There are several ways to mount a Star Analyser grating. In addition to watching the above video, please download this easy, one-page guide: link. Or, see see our calculator for mounting details: link.
Note: don't overlook our  beautiful, new 24" x 36" Periodic Poster of the Spectra poster (below). See this page for details: link.

Buy risk-free: When it's time to trade up you'll get the most value for your used gear.