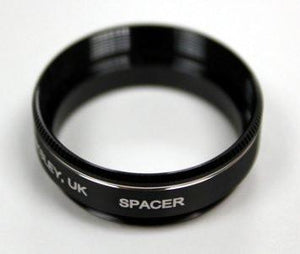 Use a spacer to increase the distance between your camera sensor and your Star Analyser.
If you mount the grating too far away, the whole spectrum will not fit in the camera frame and sensitivity is reduced as well. .

If you mount a grating too close to your camera, you may lose resolution.
Read more about spacers here: link.
Use our calculator to determine the best mounting distance of your Star Analyser grating: www.rspec-astro.com/calculator.
In some cases, adding one or two of our 10 mm spacers may produce spectra with a bit more resolution. 

Buy risk-free: When it's time to trade up you'll get the most value for your used gear.