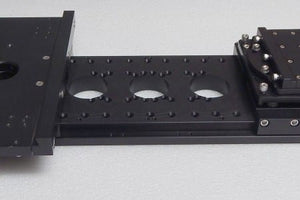 PlaneWave Tandem Bar allows you to mount any PlaneWave telescope with an optional fixed or pivot dovetail plates on one side of the tandem bar while mounting an adjustable D-Style pivot plate on the other side. For PlaneWave A200 Eq Mount or Paramount ME.
600360– A200 Tandem Bar – $2,000 (25 lbs)
600357– D-Style Fixed Dovetail Plate – $800 (4 lbs)
600358 – PlaneWave Fixed Dovetail Plate – $700 (4.5 lbs)
600359– D-Style Pivot Plate – $1,200 (8 lbs)

Buy risk-free: When it's time to trade up you'll get the most value for your used gear.