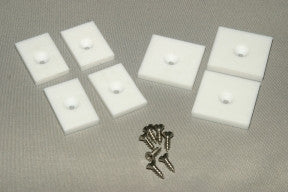 Our Take
If you are having trouble using your Dobsonian because of the jerkiness of the altitude and azimuth motion, consider upgrading the bearings. Many manufacturers use a low quality plastics for these surfaces that do not provide nice smooth motion. Astrosystems' Teflon kits offer an easy fix to the problem!
Description
Smooth out your telescope movement with virgin PTFE bearings.  All kits contain 3 azimuth and 4 altitude bearing pads of 3/16" minimum thickness virgin PTFE (Teflon), pre-drilled and countersunk, with stainless steel mounting screws.  These suggested sizes will accommodate most telescopes, custom sizes are available (contact us).
 

Telescope Weight

Azimuth Pads(3)

Altitude Pads(4)

Small-kit

up to 70 lbs. 

1" x 1"

 

0.75" x 1"

Medium-Kit

   71-120 lbs. 

1.5" x 1.5"

  1" x 1.5"

Large-Kit

120-250 lbs. 

2.5" x 2.5"

  1.5" x 2"

Buy risk-free: When it's time to trade up you'll get the most value for your used gear.