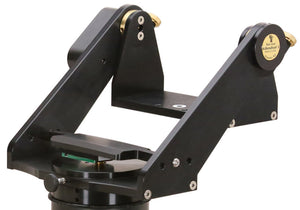 Description
Add "brains" to your Tele Vue mount
Kits include the encoders, housings, wiring, and hardware to fit your Tele Vue mount.
Available Accessories/Replacement Parts
Pano/TelePod/ Gib Encoder Kit (STN-4001)

Sky Tour Azimuth Spacers for 5" Head (STS-5002)

Sky Tour Caddy Plate (SCP-1019)
Specifications
Sky Tour
Display
Red L.E.D., 10 Character
Display
Dimming
5 levels
Display
Resolution
1 minute right ascension, 0.1 degree declination
Display Modes

STAR FIX - alignment mode using convenient star list
RA DEC - current right ascension and declination
CATALOG - complete database of celestial objects
GUIDE - shows direction and distance to object
ALIGN - uses full database to fine-tune alignment
IDENTIFY - identifies object by type

Database
Tom Lorenzin 2000+ catalog includes:

110 Messier objects
selected NGC objects
selected IC objects
selected Non-Standard objects
selected Stars, colored, double, multiple
31 alignment stars
8 Planets
The customizable FAVorites database can hold 99 objects

Coordinate
Epoch
AD 2000
Telescope
Mounting
Types

Tele Vue Alt/Az
Dobsonian Alt/Az
Custom Alt/Az
German Equatorial

Alt/Azimuth
Setup
Requires 2 star alignment
- no input for latitude, longitude, date or time required.
Encoder
Resolution
2160 step, 0.167-degree/step (10-arcminute/step) encoders
Sampling Rate
0.5 millisecond
Maximum
Slew Rate
160 degree per second
Sidereal
Clock
Accuracy
0.01%
Dimensions
2.8 x 4.6 x 1.1 inches
Weight
6 ounces including 9v battery
Power
Requirements
5.1 to 14 Volts DC Reverse polarity protected
Specifications may change without notice

Buy risk-free: When it's time to trade up you'll get the most value for your used gear.