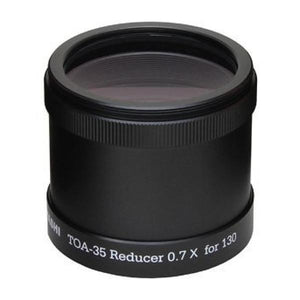 Description
The TOA-35 Reducer is a 0.7X reducer for use with the TSA-120, and TOA-150B telescopes. The reducer consists of 4 elements in 3 groups and utilizes ED glass, and produces a 44 mm diameter image circle.  When used with the TOA-130 and -150, the appropriate adapter ring is required.  
Specifications
Telescope with Adapter

TSA-120 with TOA-35 RD
TOA-150B with TOA-35 RD

Adapter Part Number

TKA32580B

TKA32580B

Aperture

120 mm
150mm

Resolution

0.97"
0.77"

Limiting Magnitude

12.1
12.7

Light Gathering Power

293X
460X

Focal Length

635mm
775 mm

Focal Ratio

f/5.3
f/5.2

Image Circle Diameter

44mm
44 mm

Optical Type

ED Triplet
Doublet ED Triplet

Tube Diameter

125mm
179 mm

Tube Length (With Lens hood retracted)

990mm (870mm)

1280 (1110mm)

Tube Weight

6.7kg
15.2 kg

Recommended Finder

7x50
7x50

Metal Back Distance

56.2mm (Measured from back of CA ring)
56.2 mm

(Measured from back of CA ring)

Buy risk-free: When it's time to trade up you'll get the most value for your used gear.