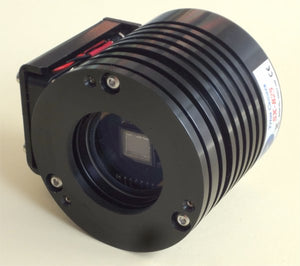 Description
The TRIUS range of cameras was introduced in 2014. These were the first cameras on the market to
incorporate a powered USB 2.0 hub in the rear of the camera to enable the user to connect their USB
filter wheel and guide camera directly to the camera rather than multiple cables back to the computer -
simplicity and convenience.

The new TRIUS PRO series follows on from that success. We have redesigned the electronics to give
even lower read-noise figures and faster downloads. With the Sony CCD cameras, we are now getting
read-noise figures that are better than CMOS cameras (when used at unity gain), along with 16bit data
and significantly better dark-noise figure thanks to the impressive cooling. Dark frames really are a thing
of the past, making calibration frames optional rather than compulsory, giving you more time to capture
data and process your images.
This new camera uses a brand new version of the legendary ICX285ALA (ICX825AQA for color)- used in thousands of H9 cameras since 2003. The new chip offers an excellent QE of about 75% in the yellow visual band and an extremely good H alpha QE. The image format and pixel size are the same as for the SX9 camera.

Buy risk-free: When it's time to trade up you'll get the most value for your used gear.