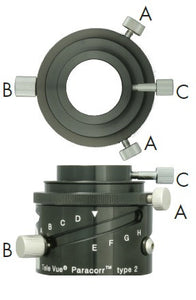 Description
The 2" Tunable Top with 1¼" Adapter (model #ATT-2125) is the tunable top from the standard Tele Vue 2" Paracorr Type-2. It permits positioning all eyepieces for optimum coma correction. For use on the BIG Paracorr Type-2, the "VISA" (Visual / Imaging System Adapter), is required. A 3" Tunable Top is not required since secondary mirror size limits maximum exit pupil diameter to around 7mm. Therefore, the widest true field eyepiece choice with an f/3 (f/3.45 when used with Paracorr) is Tele Vue's own 21mm Ethos, which delivers a 6.1mm exit pupil at f/3.45.
Installation
Attach the Tunable Top by unscrewing the Stop Flange from the top of the BIG Paracorr Type-2 and replacing it with the "VISA" adapter. Then screw on the Tunable Top. Tighten the Tunable Top snuggly.
Use
For 2" Eyepieces

1) Make sure eyepiece lock screws (A) are loosened

2) Remove 1¼" adapter.
3) Slip 2" eyepiece into the Paracorr
4) Tighten eyepiece lock screws (A)
5) To adjust for eyepiece position,
a. Slightly loosen the height adjustment lock knob (B) that clamps on the slot.
b. Push the screw (B) to adjust the height of the eyepiece, following the guidelines in the eyepiece position chart below.
c. Tighten the height adjustment lock knob (B).
For 1¼" Eyepieces
1) Slip the 2" to 1¼" reducing adapter into the Tunable Top and tighten lock screws (A).
2) Place the eyepiece in the adapter and tighten the lock screw (C) 3) Follow the adjustment procedures outlined above in step 4.
Note: Focus the telescope after properly setting the eyepiece position. Do not accidentally use the tuning feature for focussing.
The easiest method for finding optimal correction for other brand eyepieces is to first establish the focus position with a Tele Vue eyepiece at its known Paracorr setting. Then insert your other eyepiece and use the tunable top until focus has been reached. Note the mark on the Paracorr body for the setting. Use your telescope focuser to tweak the focus if necessary.
CAUTION: Do not insert any accessory (Barlows, collimators, etc.) with a barrel length more than 1¾" into the Paracorr, to avoid contact with the Paracorr lens.

Buy risk-free: When it's time to trade up you'll get the most value for your used gear.