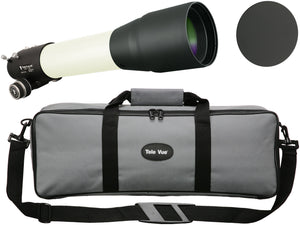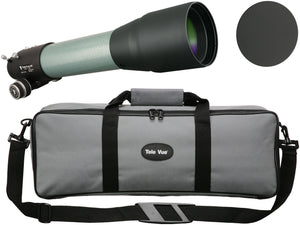 Going on a trip?
Try these!
Looking for Urban Viewing?
Try these!
Description
The Tele Vue-85's mix of aperture and small physical size makes it a wonderful "go anywhere, do anything," crossover instrument—with Tele Vue quality, of course. With APO performance and airline portability, the Tele Vue-85 has been delighting astronomy and birding enthusiasts and reviewers alike. "Eye-popping performance that raises the standard of excellence for highly portable instruments." Evaluation of double-stars, lunar detail, deep sky and photography were reported in Sky and Telescope as: "Truly awesome! ...Incredible!...the view almost blew me off my chair!..." The conclusion, "...an extremely powerful, compact instrument capable of delivering stunning images of the universe."  In addition, experience "snap-to" focus thanks to Tele Vue's silky-smooth, dual-speed (10:1) Focusmate focuser.  The TeleVue-85 is available in either Ivory or Green tube body colors.
Specifications
Type
APO (Doublet) Refractor
(Elements/Groups: 2/1)
Objective (mm)
85
Focal Length (mm)
600
Focal Ratio (f/#)
7
Length OTA (inch)
19
Length with diagonal (inch)
21.9  (with 2-inch diagonal)
Weight OTA/Std. Config (lbs)
6.1 / 8
Drawtube/Focuser
2-inch, Focusmate dual-speed rack/pinion
Maximum Visual Field (deg.)
4.4 (with 2-inch 55mm Plössl)
Maximum Recommended Power (x)
225
Included Accessories
Sliding metal dew shield
Screw-on metal lens cover
Focusmate dual-speed focuser 10:1
Soft carry case
Going on a trip?
Try these!
Looking for Urban Viewing?
Try these!

Buy risk-free: When it's time to trade up you'll get the most value for your used gear.