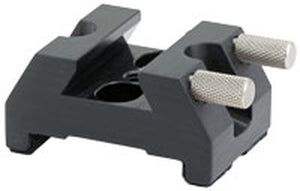 Description
This Quick Release base is designed to securely fit scopes from as small as 3" on up, so that it will automatically contour to fit all your scopes,
It mounts onto the pre-drilled holes of your Astro-Physics refractor or onto other commercial telescopes that utilizes the same side-to-side hole spacing.  It even incorporates inline holes to make it compatible with virtually any scope/focuser combo that is available today. Fortunately, the spacing between the holes of most finder brackets is standardized, whether side-to-side or inline.
The dovetail design of this base accepts these items:
10 x 60 Quick Release Finder Bracket (S1060QRM)

8 x 50 Quick Release Finder Bracket (S850QRM) - discontinued

Male Dovetail Base (A3251-B and earlier versions) along with whatever accessory you have attached

Modified TeleVue StarBeam (STARFMD) or modified Qwik Point finder, which already include our part #A3251-B male dovetail piece
Note that though the dovetail bar of our Guider Bracket Kit will fit this base, we recommend the longer QRBASEG for stability.
The symmetric design of this base makes it easy to rotate the base 180 degrees for either left-handed or right-handed use. There is even a tapped ¼-20 center hole, so that it can be attached to dovetail bars to further expand its usefulness.
The base is small enough that you can leave it attached to your scope. Simply loosen the thumbscrews and slide the finder assembly out. When you place your scope into its case, turn the scope so that the base is in a corner position.
You may wish to purchase an extra base to attach to other telescopes so that you can swap your finder easily from one instrument to another. If your scope has multiple finder bracket holes, you can either have multiple types of finders on your scope or have the ability to quickly switch your finder from one side of the scope to the other.

Consider adding the Male Dovetail Base (A3251-B) to other finder accessories that you may have in order to make them compatible with our Quick Release Base!

Specification:
Mounting hole spacing: approximately 1 3/8" (34.9 mm) side-to-side and uses 10-32 x 5/8" screws for attachment.  The inline hole spacing is approximately 0.78" (20 mm).  The base length is 1.35" (34.3 mm).

Buy risk-free: When it's time to trade up you'll get the most value for your used gear.