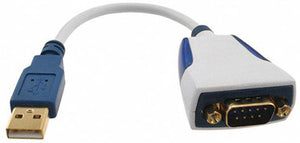 Description
We strongly recommend that you use a genuine FTDI USB-to-Serial Adapter. Do not use adapters that claim to be compatible. Most are not and will cause major headaches with reliability.
This is the easiest way to connect a single serial device to a USB port on your PC. The USB1PFTDI is FTDI's premium USB to RS232 adapter.
It uses the same fully-supported, state-of-the-art FTDI driver that is used in our CP4 control box, which makes it both convenient and compatible.
The electronics are housed in an attractive glossy white enclosure with blue, side-lit LED TX and RX traffic indicators. A matching white 10 cm USB cable uses gold plated USB and DE9 connectors for oxidation-free connections.
The USB1PFTDI uses an enhanced RS232 level converter and is capable of communication rates up to 1M Baud. It is RoHS compliant and is CE and FCC approved. It is the only USB to serial adapter that we know of with an operation range down to -20° C.
Very Important: The driver must be installed before the adapter is plugged into your computer!
The FTDI VCP driver is found at this site: http://www.ftdichip.com/Drivers/VCP.htm
Select the Windows driver under "Comments" all the way to the right of the table. The driver is the "setup executable" link. See this PDF for driver location.
The USB to Serial conversion device by Future Technology Devices International is backward compatible and fully upgrade-able. We strongly advise that you check the Future Technology Devices International Ltd website often for the latest in driver updates to ensure continued high performance and top level compatibility.
Stay current.
Please note: we are NOT a computer company. We are not the Microsoft® Help Desk, and we cannot make any guarantee that we can solve any and all issues that may arise as you try to communicate with your mount via an external computer. That being said, however, we have found that this products is reliable, easy to set up and configure, and an excellent value. The Future Technology Devices International and Icron units work well with Windows® machines and with MacOS® systems, and they  offer superior customer support.
.

Buy risk-free: When it's time to trade up you'll get the most value for your used gear.