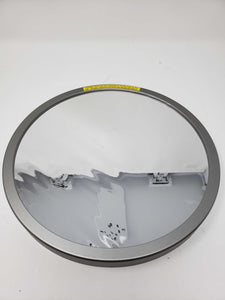 USED GEAR INFORMATION
This filter is in good condition. There are some small blemishes on the film that may slightly reduce contrast or make it more difficult to focus. The film spans a large distance which can cause warping, this only causes the reflected light to be distorted (the light let through the filter will remain intact). does not include mounting screws.
Description
【Filter Harmful Solar Radiation】A must-have to safely observe the sun without damaging your eyes - optical filter fits snugly over your telescope's aperture to block 99.9% of incoming sunlight.
【Measuring the Size of Your Telescope】This filter features an inside diameter of 230mm - it is designed to fit optical tubes with an outer diameter of 220mm to 252mm,the outer diameter of filter is 260mm.
【Solar Filter Foil for Safe Observing】The solar filter meets ISO 12312-2: 2015 and Amazon has verified the security. Explore the Sun safely through a telescope with this high-quality solar filter featuring Baader AstroSolar film in a sturdy aluminum cell.
【High-quality and Durable】Three clamping screws with protective plastic caps - ensure a perfect fit and are also gentle on your telescope, attaches directly - filter in anodized aluminium mounting.
【PLEASE NOTE】(1)Never Use Your Telescope If The Sun Filter is Any Disrepair, Otherwise Per-manent Eye Damage Will Result.(2)Because of the larger diameter, some solar filters may have wavy line on the film which will not have any effect for observation.

Buy risk-free: When it's time to trade up you'll get the most value for your used gear.