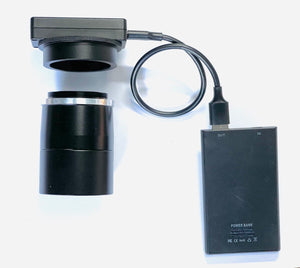 wifi-Aline is a complete system for collimation and includes focuser extension tube (usb power bank sold separately) eliminating the expense of a plethora of collimation tools.

The wifi-Aline's wifi-range of greater than 20 feet makes it the perfect tool for collimating large newts and dobs. No more dashing between the primary mirror cell and the eyepiece to check collimation.
Description

The wifi-Aline enhances the accurate collimation of Dobsonian and Newtonian telescopes by sending a real-time video stream of the telescope optics wirelessly to your tablet, phone or computer's display. 
The wifi-Aline does not require any additional apps, applications, or other software downloads for use on computers, tablets or phones. 
The wifi-Aline's powerful ESP32 processor wirelessly serves up webpages to Safari, Edge, Firefox, or Chrome web browser on your computer, tablet, or phone for complete control of all wifi-Aline functions and viewing the real-time video stream of your telescope's optical elements.
As an additional assist, wifi-Aline superimposes 3 coaxial target rings and a crosshair that, once carefully offset to align with the primary mirror edge, guide the collimation adjustments for the secondary and other optical elements to bring them into accurate collimation with the primary mirror.
The  wifi-Aline internally surrounds the camera lens with an ultra bright micro-prism retro-reflector, lit by the light gathered by your primary to brightly delineate the centerline of your optics. Focus can be adjusted by screwing the lens in/out.

Buy risk-free: When it's time to trade up you'll get the most value for your used gear.