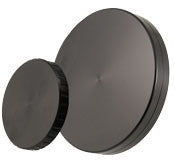 Description
For Astro-Physics customers who have already purchased our 2.7" field flatteners, we are now offering machined aluminum covers to protect their optics. These covers will fit any Astro-Physics 2.7" field flattener. This will replace the red plastic plugs that were previously shipped with all field flatteners.
You do not need to purchase these covers separately if you are ordering a new field flattener. They have been included with all new 2.7" field flattener purchased since summer 2009.
The set includes one each of the following:

Buy risk-free: When it's time to trade up you'll get the most value for your used gear.