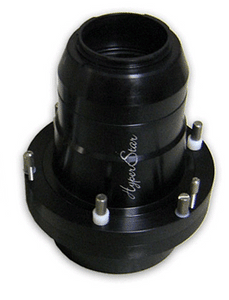 Description
Celestron has shipped some non-Edge HD telescopes with the Edge HD rear cell. Because this cell moves the primary mirror forward, the Edge HD version of the HyperStar lens is required. If unsure which model to order, please give us a call.
The HyperStar 14 system allows extremely fast, wide-field CCD imaging with the Celestron 14" SCT. The lens replaces the secondary mirror on Fastar-compatible 14" SCTs and turns the telescope into an f/1.9 imaging system!
The HyperStar 14 is compatible with a variety of cameras, including Canon, Nikon and Sony DLSRs, plus CCD cameras from Atik, Mallincam, QSI, SBIG, Starlight Xpress, ZWO and others.
Donald Rudny uses Starizona's HyperStar lenses for public outreach on Mauna Kea, Hawaii, and wrote us to tell about his experience: "We use two Hyperstar systems, one with a C14 EdgeHD and the other with a C6 Evolution. We have been using the Starlight Xpress Ultrastar recently for outreach with visitors, and the images have been superb. The visitors have been amazed with what we can achieved in near real time. The Hyperstar is the key in producing AP like images in short exposures. There's nothing faster at f/1.9."
Specifications
Focal Ratio: f/1.9
Focal Length: 684mm
Maximum Usable Sensor Size: 27mm Diagonal (APS Format)
DSLR Compatible
Field of View (with 27mm sensor): 2.4 degrees
Camera Adapter Threaded for 2" (48mm) Filters
Backfocus (from mounting thread to focal plane): 67.4mm (2.65")
Length (without camera adapter): 5.1"
Diameter: 4.9"
Weight: 3.1 lbs
FAQs
Do I need the Filter Slider to use Filters with the HyperStar?
No, the standard camera adapter that comes with the HyperStar allows the use of one 2" mounted filter. This is ideal for light pollution or IR/Cut filters when using a one-shot color camera. Although, the Filter Slider is ideal for quick filter changes when using a monochrome camera.
Are HyperStars hard to focus?
HyperStars are no more difficult to focus than any other optical system. HyperStars can be accurately focused with Bahtinov Masks, AutoFocusers (ie MicroTouch Autofocuser), and any software that displays a Full-Width Half-Max star value. Although, the fast F/Ratio does make the camera's backfocus much more critical. This is why the HyperStar camera adapters need to be precisely within +- .5mm of the camera's backfocus.
Why do I need to specify my mount type?
We ask for the mount type to determine if you'll need a counterweight shipped with your HyperStar or not. GEM mounts can accommodate the balance of the HyperStar by shifting the scope forward or backward on the mount, whereas Fork Mounted telescopes can't move on the mount and require a counterweight.

Buy risk-free: When it's time to trade up you'll get the most value for your used gear.